THIS IS A BIG ONE.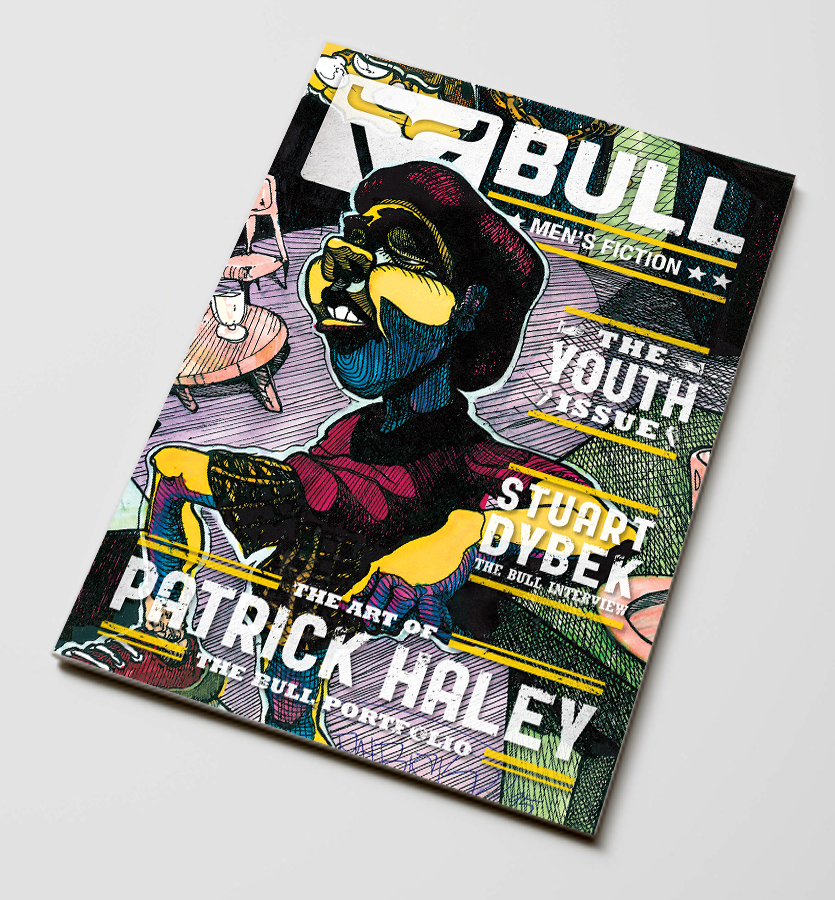 BULL #5 – The Youth Issue – a long time coming.
Subscribers got it coming.
This one means a lot to me personally. One year ago this past March, my brother, Patrick, died suddenly in his apartment in Alaska. He was an amazing person. That may be said about a lot of dead people, but it is said only because it is right. And in such a situation, not much else is.
He was my brother, and he shaped every aspect of my life. He was an artist, and he likewise shaped my entire aesthetic, especially with regards to this magazine.  His touch permeates every facet of what BULL is–its look, its voice, its impact–the essence of BULL is owed to him more than anyone.
He did many of the interior illustrations for past issues, but this is the first time we've ever run a portfolio–13 pages taken straight from his sketchbooks. When I was a kid and he'd go out at night, I'd spend hours in his room playing his records and poring over those books, deciphering the meaning, envying his talent, and discovering more and more about him. I still do, every time.
I doubt that any more than 10 people in this world have ever seen those pages. I'm sharing them because I can, because I think I should, and because it's important to me that other people might have the chance to witness and wonder about it like I do. Especially the kind of people who choose to be a part of something as heartfelt as this magazine. Never, if not in BULL, would anyone ever see this work. You who care enough to participate in something like this are the only ones I'd ever share it with.
Because that was the way he was. He had a true filter on the people he allowed in his life, even less his art. But I know he was proud of this magazine, and I think he'd be proud to be in it. Somewhere deep down, I know it's okay.
On the back cover I made a collage of the full color pieces from his books as well as the street work he did in the 90′s around Florida's Tampa Bay area–all of which is long gone for good. Such is the medium. I'd show you that but you should really just own the thing. I don't know why, but knowing that it is physically out there in the world with only a small number of people would mean far more than however many more viewers here.
For the first time ever too I've put a story of my own in a BULL issue. I've been reluctant to do so in the past but it should make sense once you read it. I wrote the story years ago, long before BULL ever existed, showed it to a couple people thereafter but held onto it since. It's my favorite of what all I've done. It feels good to read, at least. And I think he would like it.
This is an important issue for another reason–it is likely the last BULL in print to be released with me as editor.
Likewise with amazing dead people, I've read many letters like this from editors when they bow out. But one thing to know is that BULL will carry on, in the hands of Jared Yates Sexton and Chris Wolford, along with old and new staff like Bryce Emley, Josh Peterson, Curtis Dawkins, Michael Goodell and the many others who believe in BULL enough to contribute their time and energy to making a great thing happen. I am so incredibly grateful to them for that belief, and I believe in them to do even greater things with it. You should believe too.
I started BULL in 2009 as a means to meet other writers, to see what people thought, to rally the likeminds, to create a venue that did not exist, to shake some foundations, to spite, to champion, to create, to investigate, and to not go crazy while I stayed home to care for my then-newborn son. Though I dreamed of it, I could not imagine that it would become something as fulfilling as this. And having my fill, and so little time now to go to overflowing, I leave with the most sincere thanks to those who BULL has put me in contact with–staff, readers, viewers, anyone who even knows we exist–thank you for being a part of this; you are a part of something special. You're who I made this mag for.
Thanks for reading. Get that issue. BULL forever.
–Jarrett