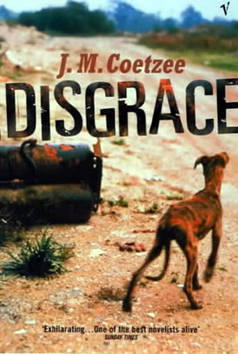 Academics, their world and workplace, might be the most frequently mined literary vein in the history of books. Why? Because they have all the ingredients for a thrilling train wreck: smart people with huge egos and inferiority complexes under the crucible of fierce competition to publish or perish. You've got some bitter brainiac gunning for tenure, walking around the dark and narrow halls in a tizzy because The Emily Dickinson Funtime Bi-Decadely recently rejected the paper worked on for three years—a further distillation of a dissertation—titled, "Sexual Shenanigans in Odd-Numbered Free Verse Poems of the Later Years, and the Politics of Gender in Non-Missionary-Style Sex Positions."
Mix into this dysfunctional stew attractive young people sticking their toes into the cold water of the wide, wide world for the first time, easily seduced by professors' eloquence, impressed at the focus exhibited toward their chosen field, while the real world is out there: genocide in Darfur, global warming, and armed vigilantes shooting kids. It is a volatile mix—issues of sexual politics and power play out in every department in every university all over the world.
Before I start exposing the hateful weirdness of my graduate school, let me say this: I'm sure it's better now 12 to 15 years later, and, the Creative Writing faculty was second-to-none: brilliant writers who didn't take themselves too seriously and were great teachers. So what if one instructor brought her dog to class every day—he was a nice dog who rarely said anything—God rest his doggy soul. He died in Germany. His master recently won the National Book Award.
The writing faculty made the other English professors seem like unhinged pre-schoolers. They were miserable misanthropes, and in the next decade, a few of them will become famous literary villains in their own right because some of the budding writer/students they mistreated are coming into their own. For example, my old classmate Darren DeFrain, author of The Salt Palace. If he ever has a collection published, there's a story he might include (which we all read in workshop) about a professor who eats his Robert Frost manuscript, crapping it out later in graphic detail on a compost heap. The professor is real and he wrote some scholarly something-or-other about Frost's supposed closeted homosexuality. The professor got on Darren's bad side, which for most mortals is impossible to do—a nicer, more easy-going person you would never hope to meet—but there was some confrontation between the two where Darren was humiliated in class.
English departments are especially strange environments because the professors love literature yet, in the present, they hate the students and teachers producing the exact works professors will be deconstructing in the future. They should know better than to injure the sensitive budding artists, which is akin to angering the server at your favorite restaurant: his fluids will be in your soup. The injured writer is going to get his/her revenge someday. Like elephants, only more immature and destructive, writers don't forget.
Next, there was the Shakespeare expert with the nice legs she loved to flaunt at department parties, who, when she was a graduate student teaching freshman English at N.Y.U., convinced Raul Julia to come to her class and act out some scenes from Macbeth. She wore her shortest leather skirt, hoping to attract the actor, only to be completely ignored. Twenty years later, her rejection was still a sore spot—one she probably shouldn't have shared with her Shakespearian Tragedies class.
There was the tall dark ice queen who was for several years the head of the English Department, referred to by the poets as "Darth Vader." There was the serially divorced department secretary with the loud voice and volatile temper, the overall pleasantness of cancer.
And finally, the D.H. Lawrence scholar who gave me a "C" as a final grade. If you've never been fortunate enough to attend graduate school, it is nearly impossible to get a grade as low as a "C". You really have to do something wrong. My "wrong" was telling him I thought Lawrence's travel writing was completely overrated, that he should have stuck with fiction because his reality-based essays were condescending to the point of being racist. In all fairness, it's also possible (actually, probable—scholarly papers filled me with depression, dread, and nausea) my papers were not that good.
Here's the real, unsurprising story about that D.H. Lawrence scholar: he had been caught by his wife a few years earlier with a former student. And this guy was old—as spotted and shriveled as Montgomery Burns.
Likewise, our communications professor in Disgrace commits, without a moment's hesitation, the top of the line in taboo academic acts: he has an affair with a current student thirty years his junior, then shows her favor when she misses the mid-term. All manner of hell is raised by a thug ex/current boyfriend who shows up in the professor's office, and the girl's father. Just as I imagine my old D.H. Lawrence professor would act if confronted with his misdeeds, the fictional communications professor is unrepentant. In fact, he's downright surly when asked to explain his actions to the committee formed in response to the harassment charges. He is defiant and abrasive in light of the affair. He resigns and moves to the country, where his daughter runs a small farm amidst the lawless dangers of post-apartheid South Africa.
All of that takes place in the first 50 pages of this masterful book by the 2003 Nobel Prize in Literature winner from South Africa. It's a short read at 230 pages, yet it has the heft of a teaspoon of matter remaining when a star collapses.
The book is ostensibly about the disgrace of an older man's lusts, but like all great literature, it becomes much more than what is on the surface. In this case, the disgraceful past politics, the current horrible lawless state of vengeful gangs, the effects on the weakest in society, how they are the ones who always end up paying for the misdeeds of others.
The last facet of Disgrace shows further why the university department is the common backdrop of many a novel: it is a prism through which every universal passion is played out. We can read about the temptations of power—no matter how small the universe—and experience the consequences, like a dream that ends with the expectation of arrest, until thankfully you realize your crimes were only a dream.
When someone is involved in a sex scandal, it is common to hold ourselves a little above those involved. Part of me, though, always cringes, because what if I were in that position? What if I were the governor, the senator, the President? If I had the charisma of a J.F.K. or a Bill Clinton, would I have avoided trouble? I can honestly say, No.
I taught about thirty sections of Freshman Comp. between 1997 and 2001. I never once physically touched a student. But the professor of Disgrace is an accomplished seducer, and I never have been, so I can't take credit—as much as I'd like to—for my scandal-free tenure as a pseudo-professor. Finally, trouble I didn't have to learn about the hard way but from the safe distance of a book.