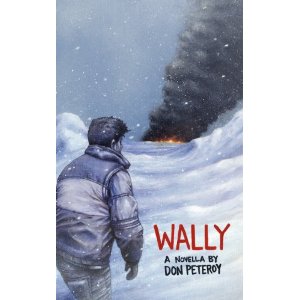 Why write a novella, one might ask. Why not just expand things a little and make it a novel, or shorten it and call it a short story? "Medium" anything feels like indecision. Make up your mind, I always want to say.
Of course I've dabbled at this kind of literary mediumymity, though now I can't remember why the story stopped at 120 pages. I think it probably had to do (rightly) with a lack of confidence in the nonsense I was writing. It was bad, and it almost got published, but the deal fell through. A few years later I sent it to Aaron and Elizabeth at Hobart's "Short Flight/Long Drive" book imprint. Thank goodness they said no—as did Jarrett at BULL, later.
Writers don't know any better. We would publish everything we write because we are all partially brain-damaged and needy and desperate for attention, like actors without the giant eyes and huge heads and the freakish, alien adorability. There is a saying that I had never heard until I came to prison, one that works equally well for publishing: "not all money is good money." Not all publication is good publication. Today I'm glad that novella wasn't published. It would have felt good at the time, but I would have regretted it a few years down the road.
Wally is a "novella" written as letters to the narrator's wife. The narrator is Wally Tiperoy—abused as a child, he grows up to inflict abuse on his wife, Elizabeth, a soon-to-be-famous graduate student in astrophysics at the University of Cincinnati. She has recently discovered "B-Gravitrope," which is, I assume, the proof of dark matter the entire astronomical community has been looking for. She is also a piano virtuoso.
Wally, a moody, unsuccessful playwright and constant whiner, one night slams the piano's keyboard cover on Elizabeth's fingers after suspecting the lessons she's giving Kyle, Wally's boss, have become more than just fingers tickling the ivory. For some shady reason having to do with violent family traits, he heads north—North Pole north—(there is also a ridiculous grudge against Santa Claus/God that Wally wants to settle). He heads north after he has sprinkled (spoiler) Ajax on his wife's tofu burritos—it's a "big" secret that is sprung on all of us at the end.
On a logical level, nothing in Wally works. Why would Elizabeth marry the shiftless, abusive Wally? What was the attraction? Has there ever been a particle discovered at Cincinnati? Does the U. of C. have a particle accelerator/collider required to discover sub-atomic particles? Is a grad student really going to be discovering anything outside of how Professor Black Hole wants his handouts collated? Does a graduate student in an impossibly difficult field like theoretical astrophysics have time to offer piano lessons to Kyle (also with no visible redeeming qualities), who, incidentally, her husband happens to hate?
Before Wally leaves town on his road-trip, he goes to the theater where he works for Kyle to leave a note saying he wants to be fired so as to receive unemployment benefits. It's 5 a.m. and Kyle is there, watching some strange pornography, snorting coke off a copy of A Farewell to Arms. It is the first of many unbelievable encounters that try and force some sparks between characters who are only props. Nothing and no one feels real in here. All the conflict seems forced into a tiny compartment, like a foot in a too-small shoe. It's the kind of story that comes from having no story to tell.
I'm sure that Burrow Press is a tiny operation run on a shoe-string budget by women and men who love words and books as much as anyone who has ever survived an M.F.A. program. I love small presses, but books like Wally don't help the plight of this, or any other small press, the world over.
It's a question of quality control. In the past five years or so, I've read 25+ books published by small presses—half of them were extraordinary, passionately-written, unique masterworks (Hobart, Tin House, Dark Sky, Sarabande are a few of many great ones), but the other half I read don't work on even the most basic level. From a Business 101 standpoint, you just can't compete putting out a sub-par product.
Books need a solid foundation, and that foundation must, like concrete, contain the right ingredients—the water in the concoction is simply life and experience—then it's left alone to harden and cure. If this is so, consider this review silica for the mix.